Enthusiasm for the Electric Business
Makita Electric Works was founded in the city of Nagoya in Aichi Prefecture on March 21, 1915. It was a time when demand for electricity was growing rapidly, driven by the economic boom around the time of World War I that began the year before.The starting point of the Company was a small factory engaged in selling and repairing lighting equipment, motors, and transformers, with only four members: Mosaburo Makita, aged 21, operating the factory as its owner, Jujiro Goto, aged 17, an experienced worker, and a boy who had just graduated from elementary school. Mosaburo Makita, the founder, was born in 1893 to a rich family of timber merchants in Nagoya and brought up in comfort. He had had a strong interest in electrical technology from early childhood, and he entered a commercial school once but persuaded his parents to allow him to re-enroll in an engineering school in Tokyo. In 1913, after graduating from school, he joined Nagoya Dento Co., Ltd. (current Chubu Electric Power Company) and took the first step as an engineer at its laboratory. He seemed to have successfully started out on a career path in the eyes of others, but in reality Mosaburo had a long-standing dream of getting his electricity business started.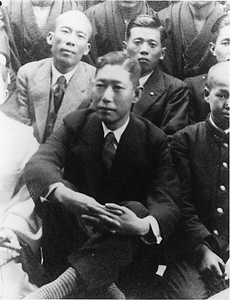 Mosaburo Makita, the Founder (around 1920)
About a year after getting a job, an opportunity arose for Mosaburo. He heard that Meiji Electric, headquartered in Tokyo, had run into financial difficulty and decided to close its branch factory in Nagoya and sell machinery and equipment. Meiji Electric was engaged in manufacturing, selling, and repairing motors and electric transformers in the order of 50 horsepower. Mosaburo enthusiastically asked his father right away for financial assistance and concluded a contract to acquire the machinery and equipment. At the same time, he requested Meiji Electric to dispatch workers as well, and Jujiro Goto was appointed to the task. Nobody would have guessed that Jujiro would later lay down the foundations of the Company.