At a glance
Approaches to product manufacturing
Through our integrated network of development, manufacturing, and sales services around Japan and the world, Makita will continue to deliver high-quality, industry-leading services along with products that aptly meet global user needs.


Product Development / Quality Assurance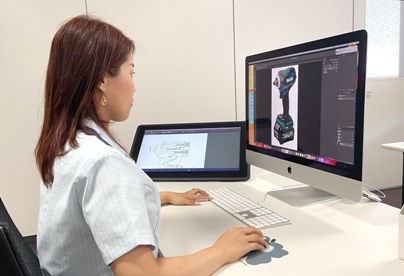 We were quick to adopt lithium-ion batteries for professional power tools, and we have the industry-leading capabilities for product development to develop them into a series of products. In product design, we utilize cutting-edge technologies like CAE analysis to further strengthen the original expertise of our long history so we can build Makita into a trusted brand. Our products go beyond functionality; they are designed for safety and refinement in consideration of user work environments as well as the natural environment.
We have built a system that guarantees quality in all processes from design to mass production. During development, we emphasize designing-in and employ design that prevents the occurrence of defects. Then, we perform evaluation from perspectives such as laws and regulations, functionality, and durability, and confirm that the product will satisfy our customers.
Production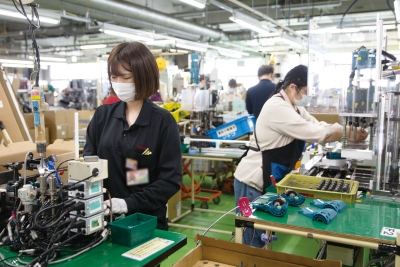 We have plants in eight countries around the world (Japan, China, Romania, Thailand, the United Kingdom, Brazil, the United States, and Germany); about 90% of products manufactured by Makita are made abroad. Going forward, we will continue to strive to further enhance our manufacturing capabilities so we can quickly produce and supply products in response to local needs.
Because we can efficiently manufacture products of stable quality, we develop in-house robots and share expertise on mass production between factories. While working to save manpower at manufacturing sites, our craftsmanship has evolved to produce products of uniform quality, no matter where they are made or by whom.
Sales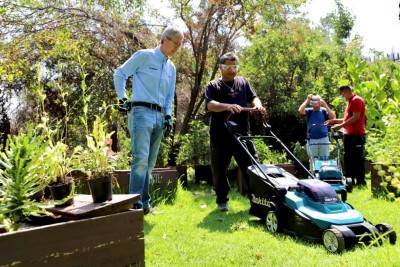 With directly managed sales bases in about 50 countries around the world in addition to our foundation of 127 sales offices in Japan, we are able to provide meticulous services adapted to customers and regions, thereby contributing to improving work efficiency and productivity for our customers. Even amid the COVID-19 pandemic, we have contributed to building richer communities and lifestyles by using the industry-leading sales and service network to promptly deliver our products to our customers in various regions.
Makita proactively participates in exhibitions, seminars, demonstration events, user visits, and all kinds of promotional activities in Japan and around the world. We also aim to improve convenience and customer satisfaction by promoting DX (digital transformation) such as apps and an AI inquiry-response system.